The Current live-blogs the 2017 Grammys
Today, the 59th annual Grammys will honor achievements in recorded music across dozens of categories. Excitement is high, and we'll be covering all the action online.
Watch this post for updates throughout the day, starting with the Premiere Ceremony at 2:30. In that three-hour ceremony hosted by Margaret Cho and live-streamed at Grammy.com, the vast majority of today's awards will be presented. The big prizes, of course, will be handed out at the main ceremony broadcast live on CBS at 7 p.m.
Mac Wilson and several members of our staff will be following closely and tweeting along. Here's a list of The Current's staffers and associates on Twitter.
Margaret Cho opens Premiere Ceremony with a Weird Al reference
Taking the Premiere Ceremony stage to "Sexy Lady," host Margaret Cho gestured to her wide curly hairdo and asked, "Do I look like Weird Al?" For once, she noted she's not up against Yankovic in the Best Comedy Album category.
In one of what will doubtless be many political references today, she told attendees, "Your music will bring about change, which we sorely need." She added, "This is the real Grammys. These are the real people who are making the music."
Cho also had some nuts-and-bolts advice for the winners who would soon take the podium. "Don't read your acceptance speech off your phone," she said, "because it just looks stupid."
"Do I look like Weird Al?" – Margaret Cho kicks off the pre-telecast #Grammys ceremony. pic.twitter.com/kMK5rZUnDg

— David Friend (@dfriend) February 12, 2017
Dylan wins, Bowie beats Prince
The Grammy for Best Historical Album went to Bob Dylan's The Cutting Edge 1965-1966: The Bootleg Series Vol. 12, a massive compilation tracking the Minnesota music legend's peak creative years.
Steve Berkowitz, reissue producer who won for Miles and Dylan projects: "They made music. They didn't make records." #Grammys

— Ben Sisario (@sisario) February 12, 2017
Although John Williams lost the Best Original Score Oscar to Ennio Morricone (The Hateful Eight), Williams's Force Awakens score prevailed over Morricone in the Grammys competition for Best Score Soundtrack for Visual Media. Cho accepted on behalf of the venerable composer, who's now working on the score for Star Wars Episode VIII: The Last Jedi. In other film-related awards, Justin Timberlake's Trolls hit "Can't Stop the Feeling" won for Best Song Written for Visual Media, and the Miles Davis biopic Miles Ahead took the Best Compilation Soundtrack for Visual Media prize.
David Bowie also took his first awards of the night, including his first-ever musical Grammy: one went to art director Jonathan Barnbrook for the packaging of Bowie's album Blackstar, and Bowie won along with the other Blackstar engineers for Best Engineered Album, Non-Classical. In that category, Blackstar beat the final album of original music released by Prince in his lifetime, Hit n Run Phase Two.
David Bowie has won more Grammys today than he won in his lifetime.

— robbingham (@robbingham) February 12, 2017
Congrats David Bowie for taking home the Grammy. Thank you to all the supporters. We'll get em' next time. #PurpleArmy Forward march. 💪🏽❤️💜❤

— Joshua A. M. Welton (@JOSHUAWORLD) February 12, 2017
Secret Agent edges Okee Dokees, Beyoncé wins best video
Minnesota's Okee Dokee Brothers were nominated for Best Children's Album, but lost out to Secret Agent 23 Skidoo, who won for his album Infinity Plus One and made a point of thanking "Yo Mama's Big Fat Booty Band, who played most of the music on this album!" Credit where credit's due. Three-time nominees, the Okee Dokee Brothers won Best Children's Album in 2013 for Can You Canoe?
Beyoncé won Best Music Video for "Formation," but Lemonade lost Best Music Film to…the Beatles, who took the Grammy for the Ron Howard documentary Eight Days a Week: The Touring Years.
Beyonce's 'Lemonade' film has been puzzlingly shut out at both the Emmys and the #GRAMMYs, losing here to Ron Howard's Beatles doc.

— Mac Wilson (@cinatyte) February 12, 2017
Kip Winger loses chance at a classical Grammy
A richly-deserving Michael Daugherty won Best Contemporary Classical Composition, taking the podium and immediately thanking the house band who played "Message in a Bottle" in his honor. That meant no classical Grammy for metal god Kip Winger, whose Conversations with Nijinsky was also nominated. For more on the classical Grammys, see YourClassical.org.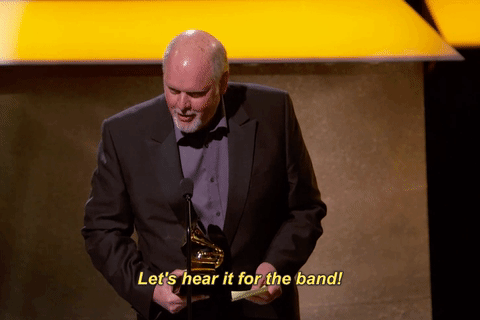 Flume won the Best Dance/Electronic Album Grammy for Skin, while Daya accepted Best Dance Recording for her Chainsmokers collaboration "Don't Let Me Down."
Performer Judy Collins recounted the story of meeting Leonard Cohen, who Collins said admitted, "I'm not a singer, and I don't know if this is a song," before playing "Suzanne." Collins, still in great voice at age 77, then performed the song alone at a piano.
Judy Collins — first major artist to sing Leonard Cohen's songs — at piano to pay tribute with "Suzanne" #GRAMMYs

— Greg Kot (@gregkot) February 12, 2017
Sturgill Simpson wins Best Country Album
Best Country Album went to Sturgill Simspon — who's also nominated for Best Album, bar none, later tonight. Accepting the award for A Sailor's Guide to Earth in casual dress, Simpson dedicated the Grammy to his family and commented, crypically, that "I guess the revolution will not be televised." (Read Mac Wilson's review of the acclaimed album.)
Sturgill Simpson captures Best Country Album. Still a longshot for Album of the Year, but stranger things have happened. #GRAMMYs

— Mac Wilson (@cinatyte) February 12, 2017
Best Country Song went to Lori McKenna for the Tim McGraw song "Humble and Kind," and Best Country Duo/Performance went to Dolly Parton and the vocal group Pentatonix for their take on Parton's classic "Jolene."
William Bell wins Best Americana Album
"I'm glad I'm still viable in the industry after all these years," said veteran singer-songwriter William Bell, accepting the award for Best Americana Album (This Is Where I Live). "I'm back on Stax after 40 years, and it feels good."
Sort of burying the lede, but it's William Bell's first Grammy!

— Mac Wilson (@cinatyte) February 12, 2017
Mark O'Connor, resplendent in a silver suit, brought his family up on stage with him to accept the Best Bluegrass Album Grammy — as well he should have, since they were on the album, the O'Connor Band's Coming Home.
Best Traditional Blues album went to Bobby Rush for Porcupine Meat ("This is my 374th record — and finally. Finally").
83-year-old blues lifer Bobby Rush justifiably choked up upon his first #GRAMMYs award in a career stretching back to 1951.

— Greg Kot (@gregkot) February 12, 2017
Sarah Jarosz won Best American Roots Performance for "House of Mercy" as well as Best Folk Album for Undercurrent; Vince Gill won Best American Roots Song for the Time Jumpers' "Kid Sister." Best Contemporary Blues album went to Fantastic Negrito for The Last Days of Oakland.
Imagine if you got to have a Grammy handed to you by @MYAPLANET9 #Grammys pic.twitter.com/2UJp80bMS3

— Jay Gabler (@JayGabler) February 12, 2017
Wins for Chance, Bowie, Solange, Cage the Elephant, more
Lalah Hathaway won a pair of R&B awards, for "Angel" (Best Traditional R&B Performance) and Lalah Hathaway Live (Best R&B Album). In the latter category, she edged out Healing Season by Minnesota band Mint Condition. In the Best R&B Performance category, Solange won for "Cranes in the Sky."
"I'm shaking! This is crazy," said Chance the Rapper, who also thanked presenter Jimmy Jam as he accepted the Best Rap Performance award for "No Problem" — a historic win, since Grammys eligibility was just expanded this year to include releases like Coloring Book, an exclusively online release. In other rap categories, Drake's "Hotline Bling" took awards for Best Rap/Sung Performance and Best Rap Song.
Grammy laureate Chance the Rapper. #GRAMMYs pic.twitter.com/PY8gYtXX3h

— Mac Wilson (@cinatyte) February 12, 2017
Aww, @flytetymejam singing @chancetherapper to announce "No Problem" won the Best Rap Performance Grammy. <3 #grammys

— Andrea Swensson (@SlingshotAnnie) February 12, 2017
Margaret Cho lost Best Comedy Album to Patton Oswalt, but later noted that her acceptance speech would have simply been "F— Donald Trump."
Band member Donny McCaslin thanked Minnesotan jazz composer Maria Schneider, among other collaborators, in accepting a posthumous Best Rock Performance award for David Bowie's Blackstar. Best Metal Performance went to Megadeth's Dystopia. ("It's a little weird that we ended up being category number 69, but somebody's got a sense of humor.")
The Grammy for Best Rock Album went to Cage the Elephant for Tell Me I'm Pretty. In the Best Alternative Music Album category, Blackstar won out over Bon Iver's 22, A Million among other nominees.
#GRAMMYs Best Rock Album to… Cage the Elephant, who give a shout to Chance pic.twitter.com/FYIQAsHEqL

— Mac Wilson (@cinatyte) February 12, 2017
Adele, possibly presaging bigger wins later in the night, won the Grammy for Best Pop Solo Performance for "Hello," as well as for Best Pop Vocal Album (25). In the Traditional Pop Vocal Album category, Willie Nelson's Summertime won over Bob Dylan's Fallen Angels and other nominees.
While waiting for @solangeknowles to take the #Grammys stage, @flytetymejam rocked out with the house band. pic.twitter.com/0HTNhL9k5O

— Jay Gabler (@JayGabler) February 12, 2017
Red carpet interviews: Chance the Rapper, Elle King, and many more
Nancy O'Dell and Kevin Frazier hosted a series of red carpet interviews, catching artists such as Chance the Rapper, Tim McGraw and Faith Hill, Daya (of the Chainsmokers' "Don't Let Me Down"), Carrie Underwood, Céline Dion, Elle King, Dierks Bentley, Katy Perry, Keith Urban, Anderson .Paak, Demi Lovato, and most adorably, host James Corden's parents (no strangers to TV stardom).
Among the first on the red carpet: James Corden's parents! When asked if they're nervous for J, they said "absolutely terrified" #GRAMMYs pic.twitter.com/2TMr2vUIo4

— The New HOT 89-9 (@newhot899) February 13, 2017
We're off: James Corden starts (and stops) the Grammys, Chance wins Best New Artist
Following an opening performance by Adele ("Hello"), host James Corden affected a series of pratfalls, tumbling down the stairs before launching into an Ed Sheeran-style rap about the ceremony. Chance the Rapper received the Best New Artist Grammy, giving "all glory to God" in his acceptance speech, and the Weeknd performed "I Feel It Coming" (prefaced by a "Starboy" intro) flanked by collaborators Daft Punk.
Watch @Adele perform "Hello" at the 2017 #GRAMMYs https://t.co/XdLRyc9HI9 pic.twitter.com/YIGzOmaMdV

— The FADER (@thefader) February 13, 2017
Twenty One Pilots take home Best Pop Duo/Group Performance
First, Keith Urban and Carrie Underwood performed their song "The Fighter." Then, up against Rihanna and Drake's "Work," Lukas Graham's "7 Years," the Chainsmokers featuring Halsey's "Closer," and Sia featuring Sean Paul's "Cheap Thrills," Twenty One Pilots won Best Pop Duo/Group Performance for "Stressed Out" from Blurryface (2015). As soon as Nick Jonas called their band's name, Tyler Joseph and Josh Dun stood up and dropped their pants, saying they decided to do so years ago if they ever won a Grammy.
Dwight Yoakam looking scared as @twentyonepilots strips. #GRAMMYs pic.twitter.com/AhIEjjFu0h

— C. Riemenschneider (@ChrisRstrib) February 13, 2017
David Bowie wins posthumous award for "Blackstar"
One more Grammy went to David Bowie, this time for "Blackstar," the year's Best Rock Song. For more on the last album Bowie released before he passed, read David Safar's review of Blackstar.
Best Rock Song awarded to David Bowie for "Blackstar." Songwriting award, so it was solo, and his absence is particulary impactful.#GRAMMYs

— Mac Wilson (@cinatyte) February 13, 2017
Beyoncé slays, of course
Best New Artist nominees Lukas Graham and Kelsea Ballerini duetted on Graham's massive hit "7 Years," Graham in a tidy maroon shirt and Ballerini in a sparkling jumpsuit. Then, Tina Knowles took the stage to introduce a performance by her pregnant daughter Beyoncé, who appeared for a stunning, gravity-defying performance of her Lemonade songs "Love Drought" and "Sandcastles."
After the performance, the camera cut to the audience to reveal Beyoncé's husband Jay Z — with their daughter Blue Ivy, dressed as Prince. It's a poignant day with respect to Prince for Jay Z, whose streaming service had an exclusive lock on Prince's catalog until noon today.
💜 Blue Ivy as Prince 💜 #Grammys pic.twitter.com/eWWp8vPUB3

— Jay Gabler (@JayGabler) February 13, 2017
STUNNING. #grammys

— Andrea Swensson (@SlingshotAnnie) February 13, 2017
Corden brings Carpool Karaoke to the Grammys
Remember Ellen DeGeneres's Oscar selfie? Here's the Grammys' follow-up. "Neil Diamond, step up," James Corden told the legend from behind a cutout of his "Carpool Karaoke" vehicle. Joined by Ryan Tedder (One Republic), John Legend, Jennifer Lopez, Blue Ivy, and many more, Corden and Diamond sang Diamond's "Sweet Caroline."
Right afterward, Bruno Mars jumped into a performance of 24K Magic slow jam "That's What I Like."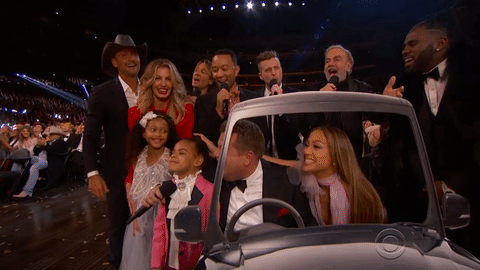 Katy Perry gets political, Bey wins again
Introduced by Little Big Town singing an acoustic excerpt of her hit "Teenage Dream," Katy Perry took the stage with Skip Marley to sing her new single "Chained to the Rhythm." A mirrored set came apart with white-clad figures rearranging planks in a fence, and then suddenly the number turned political as the fence came back together to reflect a projection of…the preamble to the Constitution? Yep, that's what that was.
After singing "Born Under a Bad Sign," Gary Clark Jr. and William Bell had an award to present. Beyoncé thanked her family as she accepted Best Urban Contemporary Album for Lemonade, saying it was important to her that children "see themselves, and have no doubt that they are beautiful, intelligent, and capable" when they look up at the TV — whether it's showing the Grammys or the White House.
That'll show him #Grammys pic.twitter.com/8BLk71dFZU

— Jay Gabler (@JayGabler) February 13, 2017
I can relate with Jay Z's "desperately trying to keep a five-year-old busy at an important event" vibe. #GRAMMYs

— Mac Wilson (@cinatyte) February 13, 2017
Morris and Keys duet, Adele honors George Michael
Minutes after winning the award for Best Country Solo Performance ("My Church"), Maren Morris performed her song "Once" under half a dozen chandeliers with 15-time Grammy winner Alicia Keys. Morris and Keys also performed together on on CMT Crossroads.
Next, Adele performed the first of the night's posthumous tributes, singing George Michael's "Fastlove" (featuring insistent piano and ominous cello) while clips of the Wham! star rolled behind her. After hitting some wrong notes, she said, "I'm sorry," and started the song over. "I know it's live television."
That @Adele tribute #Grammys pic.twitter.com/2dXBiJ4gK5

— Nikki (@Ur_Girl_Ben) February 13, 2017
Lady Gaga gets hot with Metallica, Sturgill taps the Dap-Kings
Taraji P. Henson, rocking a cosmic purple dress, appeared to present the Grammy for Best Rap Album. Chance the Rapper accepted the award for Coloring Book, giving an appropriate shout-out to other indie artists who — like him — have released their own music online rather than going through a traditional record label.
After a skit involving James Corden's parents getting cozy with Heidi Klum and Nick Jonas, it was time for Lady Gaga and Metallica to play a (literally) fiery "Moth into Flame" that took off after James Hetfield overcame a mic outage.
That awkward moment when an overhead shot reveals your bespoke mosh pit #Grammys pic.twitter.com/f0N9PilF19

— Jay Gabler (@JayGabler) February 13, 2017
Paying tribute to the late Sharon Jones, Dwight Yoakam introduced Sturgill Simpson, who came on to perform "All Around You" with the Dap-Kings horns.
It's @SturgillSimpson bringing that REAL country sound to the #GRAMMYs pic.twitter.com/DQAefcUEpK

— 98.7 WMZQ (@WMZQ) February 13, 2017
Lovato, Kelly, Day, and Little Big Town perform Bee Gees medley
Blink and you missed the acknowledgement of Trustees Award and Lifetime Achievement winners, the latter category including Nina Simone, Sylvester "Sly" Stone, and the Velvet Underground.
Lifetime Achievement to Nina Simone. So deserved. #GRAMMYs

— Lindsay Kimball (@goofnuggette) February 13, 2017
Pop band DNCE (featuring Joe Jonas of the Jonas Brothers) introduced a tribute to '70s icons the Bee Gees, performed by Demi Lovato ("Stayin' Alive"), Tori Kelly ("Tragedy"), Little Big Town ("How Deep Is Your Love"), and Andra Day ("Night Fever"). Barry Gibb, now the Bee Gees' last surviving member, sang along to "How Deep Is Your Love" in his seat.
tori kelly with dat bee gees tribute

aka queen of tribute performances pic.twitter.com/zJyKgTfzgc

— erielle tolentino (@elle_tolentino) February 13, 2017
"Hello" takes Best Song, ATCQ make a statement
Céline Dion came out to present the Best Song Award, reminiscing about when she won for "My Heart Will Go On" and slowly opening the envelope to reveal the name of the winner…Adele. The British singer-songwriter thanked her co-writer Greg Kurstin, which was a good thing because the band played the duo off when Kurstin took the mic.
That led to a performance by Anderson .Paak and A Tribe Called Quest, who made an unambiguous political statement with a performance of "We the People" that began with a condemnation of "President Agent Orange," included a diverse group of dancers busting through a wall, and ended with raised fists and shouts of, "Resist!"
#Grammys #AmericaIsAlreadyGreat pic.twitter.com/LhBNdznoGA

— Jay Gabler (@JayGabler) February 13, 2017
The Time, Bruno Mars throw wild Prince tribute
The Grammys' Prince tribute meant everything. James Corden invited the audience to visit Minneapolis in the '80s, where "rock meets fantasy, leather meets lace." "If you love Prince, make some noise," yelled bandleader Morris Day, and he and the Time took it away with "Jungle Love" and "The Bird" (from Purple Rain). Beyoncé and Jay Z sang along in the crowd.
Then, Bruno Mars went all in for "Let's Go Crazy," singing the hit in a sequined purple suit and eyeliner; he danced Prince's signature side-to-side shuffle while playing a white Cloud guitar. The song-ending solo sounded stellar.
Just after the tribute, a Google commercial featured several musicians singing "Nothing Compares 2 U."
This is how you pay tribute: WITH JOY. #GRAMMYs

— Andrea Swensson (@SlingshotAnnie) February 13, 2017
Ok, Bruno, you brought that home. Well done. That guitar work! #GRAMMYs

— Andrea Swensson (@SlingshotAnnie) February 13, 2017
Chance the Rapper brings down the house
Pentatonix took the circular stage to sing the Jackson 5's "ABC," one of the songs inducted this year into the Grammy Hall of Fame. After James Corden pointed out — just for kicks — that everyone in the audience was sitting on folding chairs, Halsey appeared to say that streaming success doesn't just happen by chance, making way for guess who?
Wait, which one of these is James Corden? #Grammys pic.twitter.com/CRLJVncvxq

— Jay Gabler (@JayGabler) February 13, 2017
.@nateryanphoto sitting on a folding chair at the #GRAMMYs! pic.twitter.com/TZ6v4IjsYX

— Leah Garaas (@leahgaraas) February 13, 2017
That's right, Chance the Rapper — who played a powerful medley of his songs, backed by a full choir and string section, not to mention Francis Starlite on the Prismizer, the instrument that helped inspire the sound of much of Bon Iver's latest album. Who's excited for Eaux Claires?
Chance The Rapper performing "How Great" #GRAMMYs pic.twitter.com/1wFUzdAWmG

— Pigeons & Planes (@PigsAndPlans) February 13, 2017
The tributes roll on
Corden teased a Kanye West appearance, but instead introduced President of the National Academy of Recording Arts & Sciences, Inc. Neil Portnow, who gave a speech about unity and brought on a trumpeter to perform a couple of lines from "America the Beautiful."
Sitting at a piano, John Legend sang the Beach Boys' "God Only Knows" with Cynthia Erivo, honoring Leonard Cohen, Prince, Sharon Jones, Ralph Stanley, Merle Haggard, Bobby Vee, Juan Gabriel, George Michael, Debbie Reynolds, Zhou Xiaoyan, Phife Dawg, Muhammad Ali, Leon Russell, and the many, many other artists who passed away last year.
Adele wins…all the rest
Tim McGraw (in cowboy hat, natch) and Faith Hill took the stage to present Record of the Year: Adele's "Hello."
Adele gave the mic straight to cowriter Greg Kurstin: "You cut him off last time!" After Kurstin said a few words, Adele thanked her manager for executing her comeback. ("I love you like my dad — I don't love my dad, that's the thing.") Acknowledging her toughest competition for that prize, she then said, "My idol is Queen Bey."
Finally it was time for the night's last prize: Best Album, which again went to Adele, for 25. The British artist was almost sobbing as she accepted the award and then turned to a familiar face in the front row. "This album was so monumental," Adele said about Lemonade, with Beyoncé visibly tearing up and saying "I love you."
Adele wins Album of the Year for '25', does a Kanye and argues that it should have gone to Beyonce https://t.co/3ggLMNVT0v pic.twitter.com/DxDlHYOm0p

— NME (@NME) February 13, 2017
Adele becomes the next artist on this list, just the second woman to win Album of the Year twice. #GRAMMYs

— Mac Wilson (@cinatyte) February 13, 2017
Everything is wrong in the world right now and Lemonade not winning is proof. https://t.co/S6vwoRrs6o

— Becky Lang (@leckybang) February 13, 2017
Adele is pretty damn cool I gotta say

— Jason Isbell (@JasonIsbell) February 13, 2017